Warning
: count(): Parameter must be an array or an object that implements Countable in
/home/pony/public_html/chilcotin-hiking-trail.com/wp-content/plugins/really-simple-facebook-twitter-share-buttons/really-simple-facebook-twitter-share-buttons.php
on line
538
This is a full, all-inclusive package which offers guests a real western ranch experience.
Included is horseback riding, guided hiking, bareback riding in one of our pastures, target shooting with a biathlon rifle, and lariat throwing — a skill every cowboy needs.
A package for those interested in experiencing a western guest ranch environment and the wilderness lifestyle, without having a set of pre-booked activities. This Package offers you the flexibility of picking and choosing as many or as few activities as you like.
This package allows two or more people to stay in one of our fully-equipped chalets at the ranch. Included is solely accommodation to allow for maximum flexibility during your wilderness vacation. This package is especially appealing for those who wish to explore the surrounding area on their own. If you wish, you can also participate in ranch activities for example horseback riding on an à la cart basis.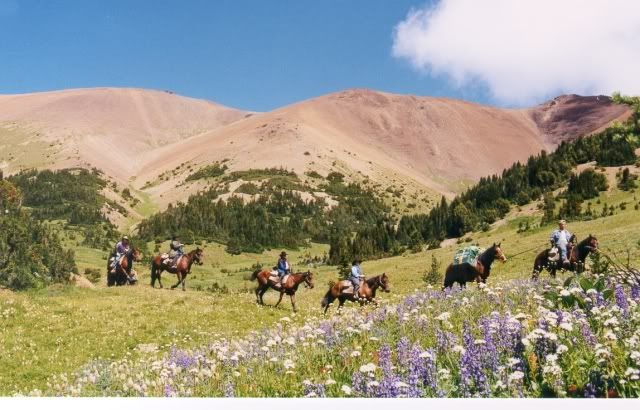 Our 4 to 13 day horse pack trips are the best options to experience the beautiful Chilcotin Mountain area and the different kinds of wildlife in the remote wilderness.
After exploring the mountains, lakes, waterfalls, flower meadows or other areas near by one of our camps, our guests can enjoy an evening around the campfire with roasting marshmallows and sipping on hot chocolate.
We offer several kinds of training programs such as hiking, fishing and wilderness guide.
By learning all the necessary skills and knowledge about guiding our guests as well as our horses and guides are as safe as possible in the wilderness. It's also the perfect opportunity for personal development.
Some of Canada's most incredible wildlife can be seen in their natural habitat as they progress through the seasons.
By horseback or foot, our guests will be able to witness, at prime times and at prime locations, the diversity of the Canadian animal kingdom, from the majestic, to the elusive, to the curious. This memorable wilderness experience will make everyone a privileged eyewitness to awe-inspiring creatures like Canadian moose, mountain goat, bighorn sheep, mule deer and black bear. Each day of the trip presents itself anew, following, adapting and adjusting to the distinctive feeding and sleeping habits of each of the different species.
As the snow begins to melt and the fresh shoots of grass appear along the alpine slopes, this is prime time to view the grizzlies at lower elevations. Find yourself silently peering down into the lush valley bottom as mother and cub play and feed on the new grass, temptingly sweetened by the spring air. On foot and by vehicle, it is possible to view the grizzlies as they re-establish their territories and start a new season.
Exploring the beautiful Chilcotin Mountain region by foot is an adventure. Our hiking itineraries are flexible and structured so our guests can chose if they want to do day hikes, half-day hikes, take advantage of the other activities we are offering in between your hiking days, ranch-based hiking or hut-based hiking. Imagine secluded alpine basins, abundant wildlife, open-air lunches with stunning scenery, 50 million year-old fossils and over 150 species of wildflowers and 210 species of birds.
Whether a trout-fishing enthusiast or a novice angler with an urge to hook a magnificent Rainbow trout, our remote mountain lakes, rivers, ponds and streams within our million-acre angling guide territory will fulfill everyone's dreams.
We pioneered "guided packhorse-supported mountain bike tours" in the south Chilcotin Mountains. These multi-day single-track wilderness bike tours are guided and done in prime biking areas where there is no conflict with horses and hikers. We do not do unguided extreme biking.
Chilcotin Holidays Lodge Trip Packages, aa,  Chilcotin Holidays Lodge Trip Packages,